While the corporate world and almost everyone else are out of the office for the holidays, I often struggle with this forced "downtime"; as a full-time musician, I'm never not working. I'm either plugging my next show, looking for the next film placement, writing a song, scheduling a recording session, pitching demos, or, at the very least, thinking about one of these things. This time around, I'm lucky to be releasing a vocal recording course and giving out discounts for my e-course which is keeping me busy (shameless and important plug: if you are reading this article, you need to check out the Jump Start Strategy… discount code below). But normally, most of the things we do as musicians are hard to do when the entire music industry is hibernating for a week, and an inbox full of "out of office" auto replies is simply useless to me.
I've come up with a solution for RMS (restless musician syndrome) that allows me to be a part of the holiday season and spirit without abandoning my work-a-holic diligence. I want to share it with you. (This is my present to you, so don't expect a fruitcake this year, mmm kay?)
1) Write or remix a track to have a holiday feel and release it on iTunes (I like to go through TuneCore or ReverbNation – both have good single release plans that can get your song up on iTunes whenever you want) end of November. I took my song "I Luv U" from my new record and added sleigh bells, remixed the strings, raised the glockenspiel and tweaked the vocals and voila! a holiday single is born, and is available on iTunes as we speak (or read)!
2) Build contact lists for yourself. All you need is an internet connection and a little quiet time (read: sorry Aunt Greta! I can't go to your holiday knitting party, I have to work on my career today). Start making lists of the contact info for companies you want to work with, whether management companies, licensing or publishing companies, jingle houses, management agencies, or PR firms. When school is back in session, you'll have a nice list of phone numbers and emails to reach out to, and all you have to do is press send.
3) Update your reel. How often do you get undisturbed time to update your reel, or create one all together. I could write books on the importance of your reel, how it's your calling card, your niche, your soul (sorry, I get dramatic during the holidays), and if you don't have one, now's the perfect time to site down, undisturbed by the possibility of new opportunities (that pay) and hop to it. 3-4 minutes of unadulterated you. Do it.
4) For my performers out there- Pick up your guitar or keyboard and learn a few holiday tunes. Then let people know that you perform at holiday parties, for a fee.. whether a corporate party or a private house concert. Make announcements to your fan mailing list, Facebook fans and friends, and place an ad on Craigslist. If you're going to be home for the holidays, put an ad out in your local newspaper, or, even better, try and schedule a short interview with a staff writer. They can take the angle that "singer songwriter /composer/musician So-And-So is coming home for the holidays and is bringing the music with them!" or something like that. I'm no newspaper writer.
5) Share what you have going on…. With conviction! Talk like you have a plan (even better, actually have a plan!) for the upcoming months, and get the closest people in your life psyched with you. These people want to know you are doing okay and that you are happy. What better gift can you give than to say you are working on a new film score, web series, record, planning your next tour, or setting up meetings with publishing companies? They'll be inspired to see you're following your dreams with confidence, and inspiration is priceless. Plus you never know which one of your distant cousins is best friends with Steven Spielberg.
Happy holidays!
~Cheryl B. Engelhardt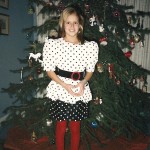 Cheryl B. Engelhardt is a composer for films, commercials and web content for sites like collegehumor.com. The Cornell University grad has performed around the world promoting her 3 piano-pop records, has published an E-course for musicians called "In The Key Of Success" and has spoken at music conferences like SXSW about making it as an artist, sonic branding, and creating a career you love. Her company CBE Music LLC provides music resources for all video projects, tapping into her boutique catalogue of independent artists' records in addition to her vast composition and orchestration skills. Cheryl is committed to constantly creating her career and helping others to the same. She is available for career coaching. More info at her site www.cbemusic.com. You can follow her on twitter @CBE.